UTAR Faculty of Medicine and Health Sciences Centre for Research on Communicable Diseases Prof Dr Ngeow Yun Fong won the Science and Technology award based on her lifetime achievement in the field of scientific research at 2019 Malaysia Toray Science Foundation (MTSF) 26th Prize Presentation Ceremony which took place at Intercontinental Hotel, Kuala Lumpur on 25 November 2019. With her were Lee Kong Chian Faculty of Engineering and Science (LKC FES) lecturer Tan Yin Qing and Postdoctoral Research Fellow Dr Ng Hien Fuh. They were awarded the MTSF Science and Technology Research Grant.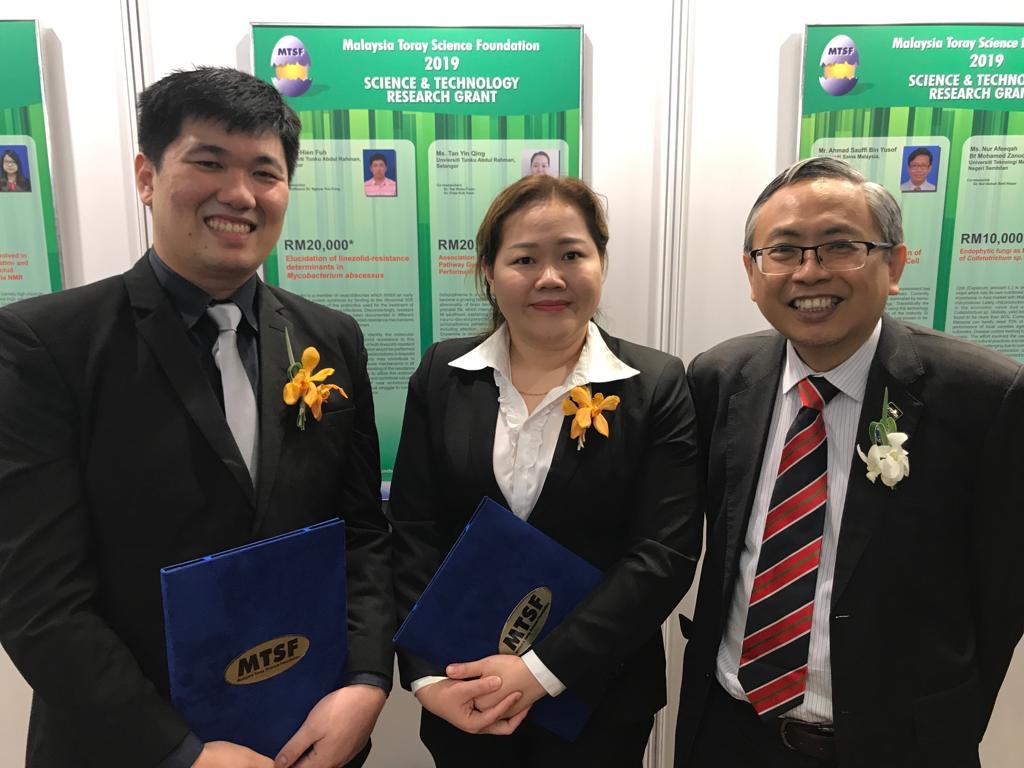 From left: Dr Ng, Tan and Prof Ewe at the MTSF prize presentation ceremony
Tan and Dr Ng were selected as the recipients of the MTSF Science and Technology Research Grant which carries a grant of RM20,000 funded by Toray Science Foundation, Japan. The grant is to be used for payment of goods or services relating to their research projects titled "Association between Dopaminergic Pathways Genes and Cognitive Performance: A Case-control Study" and "Elucidation of linezolid-resistance determinants in Mycobacterium abscessus".
Tan's research was designed as a case-control study to associate the cognition level with the genetic variance of dopaminergic pathway genes, in the Malaysia population. Although various studies of SLC18A1 (vesicular monoamine transporter in dopaminergic pathway) have been found abroad, there was no study found in Malaysia to correlate the performance of cognitive test and genetic variance with schizophrenic patients.
Present at the event were Ministry of Energy, Science, Technology, Environment and Climate Change (MESTECC) Deputy Secretary-General Dr Mohd Nor Azman Hassan representing MESTECC Minister YB Yeo Bee Yin, MTSF Chairman Academician Prof Emeritus Tan Sri Dr Omar Abdul Rahman, Toray Industries, Inc. Japan Executive Vice President Ryo Murayama, Ambassador Extraordinary and Plenipotentiary of Japan to Malaysia His Excellency Mr Hiroshi Oka, MTSF Director Academician Prof Emeritus Tan Sri Dr Syed Jalaludin Syed Salim and MTSF Selection Committee Chairman Academician Tan Sri Emeritus Prof Dr Augustine Ong Soon Hock.